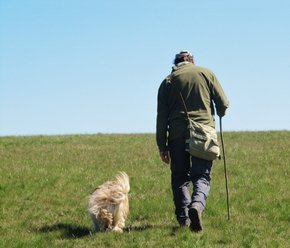 Our holiday house is very dog friendly.
We love dogs ourselves therefore well groomed
and trained dogs are more than welcome !
After consultation with us you may be able to bring more than 1 dog.
We do not put a limit on the number of dogs, but instead we ask for a cleaning fee at the end of your stay.
Nothing is more pleasant than walking your dog for the whole day in and around 'Le Guischet' and seeing your dog fall asleep afterwards in front of a crackling fire or on the terrace.
Of course we expect that when you leave our holiday house it will be neat and tidy and not damaged.
Out of respect, and to make it comfortable for everyone during and after your stay, we ask that you clean up your dog(s) faeces at once in and around the holiday house.
At 'Le Guischet' there is a dog cage (dimensions H61/D55/L61cm) available for those who want to use it. Therefore you do not need to bring a cage with you.
We advise you to bring your own mat/blanket so that your dog feels at home immediately.
The terrace can be totally shut off.
The site itself is totally enclosed by a fence.
As the holiday house is situated in a chestnut grove and a pasture, we ask you to keep your dog(s) on the lead when the shepherd and his flock are on site. They have priority at all times !
Information and hiking maps of the region are available at the holiday house.