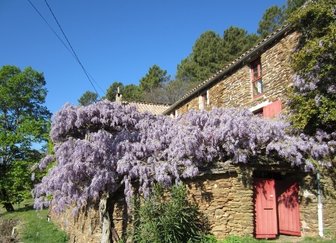 'Le Guischet' is...
A detached house to rent built in the local stone situated in the sun drenched Ardèche region of Southern France, where dogs are warmly welcomed.
A spacious and well maintained house to rent for a maximum of 6 people, situated in the lovely valley
of the River Drobie amidst the green countryside
of the Cevennes.
This house possesses a breath taking view and stands in the natural surroundings of the 'Parc Naturel Régional des Monts d'Ardèche'.
You will find 'Le Guischet' in the hamlet of 'Issac' near the village of Beaumont, near Joyeuse (20 min), Largentière and Les Vans (35 min) and Aubenas (50 min).
On this site you can find all the information you need to hire this holiday home.
The Ardèche has plenty of possibilities for every kind of holiday and is worth visiting throughout all the seasons
of the year.